2023 Contest Information – May 18, 2023
Speech & Poster Contest Flier
2023 Poster Contest – Theme: What does Art mean to YOU?
2023 Speech Contest – Theme: What does Art mean to YOU?
All 4-H members and families are invited to attend this activity. This annual county-wide program is open to all 4-H members. We hope that all 4-H members and Cloverbuds will seriously consider participating. It is a great opportunity for FUN and learning. Remember that Cloverbuds and 4-H members can participate in both the poster and public speaking contests. There is a division of the Speech Contest especially for Cloverbuds to recite the 4-H Pledge.
County Fair Participation
If you want to receive Fair Premium money on your speech, please follow these steps.
Before April 15, enroll in 4honline for the Speaking project.
Enroll your entry with your County Fair Entries (Dept. 31, Class A, Lot #C appropriate to your entry & age) by Fair entry due date.
Prepare to give your presentation during Fair according to the Fair schedule. This can be your Speech Contest presentation repeated or a completely new presentation. You will be judged and "premium" money will be awarded.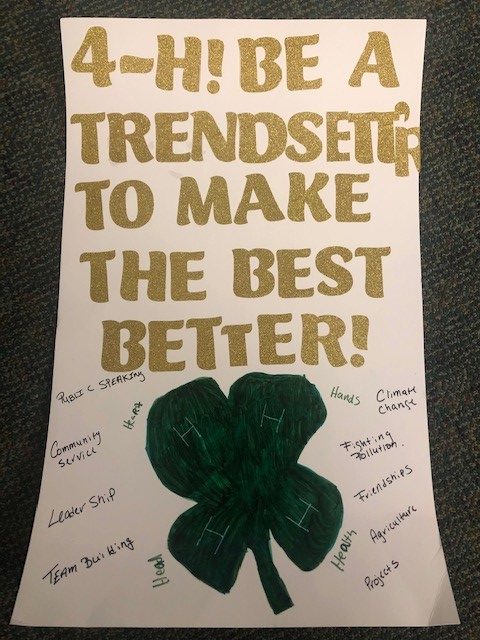 2021's Winning Poster by Olivia Dolph – Rock Lake Troopers